Dr. Edlund has been interviewed by many national and foreign publications.  Here are just a few: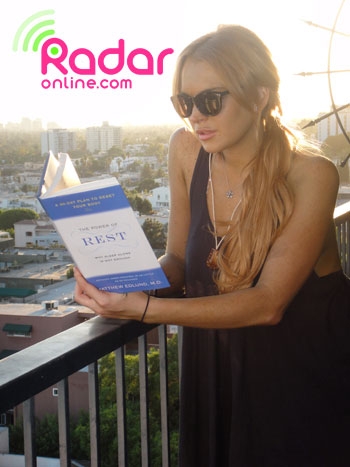 Lindsay Lohan spent her last night of freedom before rehab reading "The Power of Rest", Dr. Mathew Edlund's latest book.  According to Radar online.com, Lindsay hopes to use Dr. Edlund's  book to help restructure her sleeping patterns so she can function better.  She was recommended the book by both a doctor and a friend and hopes it will guide her in the right direction.   Read the entire article here.
__________________________________________________________________
NewsMax Health – Is Your Work Schedule Harming Your Health?
Fox News – How to increase your energy levels
CNN Health – How to fake a good night's sleep
Seattle PI.com – Widespread Chronic Sleep Deprivation Seen as a Cause for Concern
Dr. Edlund's book is now available in Estonian, and here's just one aspect of it!
MSNBC HEALTH TODAY – "Guzzling Energy Drinks But More Tired Than Ever?"
BOTTOM LINE HEALTH – "Powerful Rest to Improve Your Life"
WGCU FLORIDA PUBLIC RADIO – Sleep and rest during the holiday season
TIME OUT CHICAGO – Dream experts separate sci-fi from science
DAILYHEALTHNEWS.COM Use "Powerful Rest" to Improve Your Life
OPPOSINGVIEWS.COM – 'The Power of Rest' book review
REDBOOK "The Best Time of Day to Exercise, Take Meds and More Health Moves"
THE WALL STREET JOURNAL "Why Relaxing is Hard Work"
LIFESCRIPT "Desperately Seeking Sleep?"
USA TODAY "Going Nonstop All Day…"
ABC NEWS/ENTERTAINMENT "Inside 'Inception': Could Nolan's Dream World Exist in Real Life?"
NEW YORK DAILY NEWS "Rest at Work Isn't a Luxury, It's a Productivity Booster…"
NEW YORK POST "Press Unwind"
DAILY MAIL LONDON "Why a rest is as good for you as sleep"
PAULINE FROMMER "Tips to Getting Better Rest on the Road"
HEALTH.COM "12 Surprising Causes of Depression"
Rest, sleep, Sarasota Sleep Doctor, well-being, regeneration, longevity, body clocks, insomnia, sleep disorders, the rest doctor, matthew edlund, the power of rest, the body clock, psychology today, huffington post, redbook, longboat key news