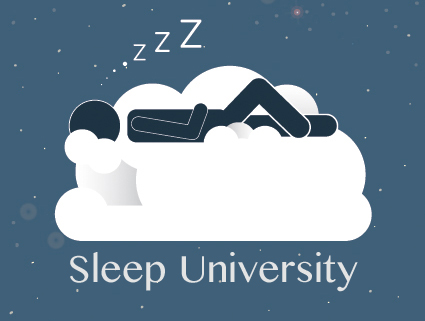 Sleep is a third of your life. Yet most Americans have forgotten the best ways to sleep.
Learning to sleep right can do far more than make you awake each day, refreshed and renewed. With proper sleep you can look better, feel more alive, think and move faster, become more productive, innovative and creative. For sleep is key to body regeneration, the secret to total physical, mental, social and spiritual health and well-being.
So welcome to the Sleep University. At our sleep school we provide classes and courses, from remedial to graduate level that in as little as hour can give you a new perspective – and let you dream of a new kind of life. It really is time to rest with the best.
Remedial Classes
•  Sleep Basics includes sections on:•  Wake Time
•  Bed Time
•  Sleep Rituals – before, during and after sleep
•  Common Insomnias
•  Passive body heating
•  Rest/Relaxation techniques
•  Temperature
•  Light
Television
Body Clocks
Skin growth
Brain development
Hair
Undergraduate Classes include more developed coursework on:
The need and uses of sleep
How to sleep anywhere
Body Clocks for Performance enhancement
Simple self treatment of insomnia
Getting to sleep whenever needed
Sleep for school – children and families
Overcoming Shiftwork
Naps for work and pleasure
Sleep for weight Control
Predreaming
Graduate Classes, for developed sleepers includes sections on:
Sleep for sex, sex for sleep
Dreams and creativity
Sleep, body clocks and performance for individuals, teams, and corporations
Sleep and art
Using dreams by day
Lucid dreaming
Waking reborn – sleep and regeneration
Sleep preventing dementia
Sleep for exercise, exercise for sleep
Sleep and infections
and many other topics
If you are interested in any of these different courses and seminars, please email dredlund@mac.com, or call 941 365 4308.
It's time to be reborn every day.